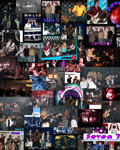 Seven 7 as your Booking Agent
Seven 7 is the best dance cover band available for your wedding, private party, corporate party, or fraternity party in or around Atlanta or Athens Georgia. With that said, we are not perfect entertainment for all occasions, that is why we can help you find your country band, your first quality karaoke host, or an outstanding DJ
Info regarding booking agents:
Need another cover band? Want a DJ? Is Seven 7 booked on the date of your event? Prefer country music?
Seven 7 is a dance cover band booking agent and a booking agency. Our band members belong to a strong network of regional cover bands, DJs, singers, pianists, and magicians and we can refer you to another top act, if we are unavailable or inappropriate for your event's date. If, however, you have a signed contract from us, Seven 7 will be performing at your event.
Our booking agency.
Booking agent work and acting as booking agencies is not seven 7's primary business. We are a dance cover band who is closely connected to the Athens music scene, and can refer you to a DJ for your wedding, or a country music band if you are so inclined.
Let us know what kind of music or entertainment your event requires and we will do our best to accommodate your needs. We can also refer you to a qualified booking agent if we are unable to make a good referral for your wedding or event.
Fill out the form below to get started...